Electronic Document Management Services (Software)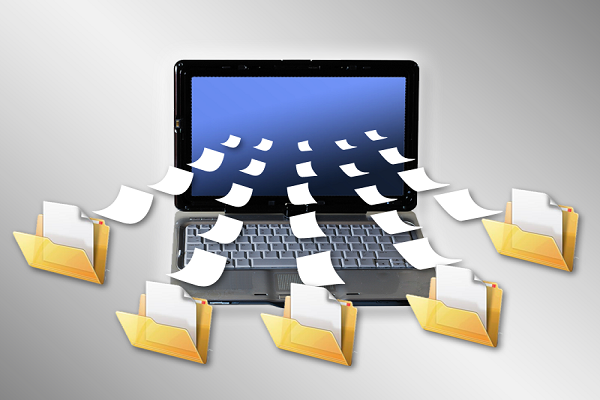 A document management system (DMS) is a web-based system (or set of computer programs) used to track and store electronic documents and/or images of paper documents.
There are several common issues that are involved in managing documents, whether the system is an informal, ad-hoc, paper-based method for one person or if it is a formal, structured, computer enhanced system for many people across multiple offices, and the purpose of this system is to handle these issues in an efficient manner.
¨Document management software that lets your organization manage and share documents in a secured manner. This system has a wider scope which can be applied to smaller as well as big organization.
Why Electronic Document Management Services ?
Paper and Electronic Document Storage Cost Reduction
Eliminate loss of vital business content
Increased Operational Efficiency and Better Customer Service by allowing easy access to the information
Plays an important role in preparing for disaster by enabling you to manage and store business-critical documents on variety of secure media
Streamlines the data retention policies and disposition processes
Locate the documents easily anytime and from anywhere using internet
Effortlessly integrates with various scanning system for optimum recognition
Electronic Document Management Solutions & Segments where DMS could be used are
Accounting: Invoices, proof of receipt and proof of dispatch, bank statements, packing slips etc. need to be stored for a long time and need to be accessible at any time. Automatic filing and rapid access to these records have become standard procedures for companies.
Finance: Information such as customer details, invoices, vouchers, legal documents, balance sheets, insurance records, purchase details, sales details, salary slips, customer queries etc. should be accessible to internal departments as well as field offices over the internet. This eliminates daylong wait times and helping the entire company respond faster and run smoother.
Production: Support and R & D: Information such as inventory lists, blueprints, service records, standards and specifications. Just think of the efficiency, to be able to access all the right documents from any workstation.
Sales: Price lists, customer orders from the last six months, charts showing regional prospects and sales forecasts. What if all of this is available through the corporate intranet? One thing is for sure: you can never be armed with too much information when you are out in the field.
Government Administration:Forms, applications, minutes and maps. The Government is supposed to be lean and mean, yet fulfill every want of its citizens. Less staff performs more tasks. Forms, bids and plans are piling up on desks.
Human Resources: Contracts, evaluations, reviews and letters of recommendation, medical records, insurance details, financial details etc. Employees are the most precious resource, and that's a documented fact! Secure and completely protected from unauthorized entry, you can page through every employee's history right on the monitor.
Customer Service: Order forms, invoices, challans, credit notes, cheques, vouchers, and customer queries, need to be accessible to you at any time. The scanned order forms can be accessed instantly with the press of a button.
Transport: Fleet Maintenance, Driving Records, insurance documents of drivers and vehicles, customer details because all these documents are retrieved most frequently in the first six to nine months after being issued. 
Medical: Patients Records, diagnosis reports, surgical reports, bill maintenance, medicine maintenance, x-ray reports access to the mentioned information allows them more time to focus on providing quality health care.
Purchase: Supplier details, purchase orders, comparison Sheets, stock details, customer details, invoices, receipts, challans, bank details all required information is collected centrally; information availability is no longer connected to a person and all documents concerning one process or transaction can be researched concisely.
Engineering: Site Details, client details, tender records, legal documents, contracts they can access even minute information anywhere they need it and whenever they need to make decision, eliminating the source of many errors.
Payroll Processing Services: We provide flexible services ranging from basic payroll processing to a full-fledged Process that includes Leave Management, Attendance integration, Statutory Consultant and much more.
Dispatch Management: Dispatch management systems are designed to help automate routing and scheduling processes, providing a simpler way to coordinate routes and deliveries efficiently. Handling them manually takes up a lot of time and often results in costly errors.
Visitors  Management: Visitor management refers to tracking the usage of a public building or site. By gathering increasing amounts of information, a Visitor Management System can record the usage of the facilities by specific visitors and provide documentation of visitor's whereabouts.
Meeting Management: Intuitive, Smart, and Quick way to automate your meetings, conference rooms, and resources. Meeting, Conference Room & Resources Management offers an easy and quick way to find out resources for meeting and request resources while creating a meeting request. A simple and convenient way to set up meeting rooms and resources for various locations.
Helping our customers to build solutions that can mitigate risks, reduce capital, expenditures and trim overall it  costs.
SaaS is how all applications will be, and should be, delivered moving forward. They are platform independent which supports the growing belief that bring your own device will be the method of choice for most employers in coming few years. It's also far more cost-effective and, as well as being an operating expense-based model, far more flexible than on-premise traditional software architectures.
A school & college management system not only gives information about students. It can provide real-time information about teachers activities also. School & College Administrators can access a particular teachers class schedule, daily reports of the teacher, etc.
Housing Societies Management:
Society management comprises generation of maintenance invoices and receipts, maintenance collection, accounting of community funds, helpdesk management, facility management, staff management and gate security management, to list a few. Improve Society Maintenance Fee Collection by 80%
A learning management system is a software application for the administration, documentation, tracking, reporting, automation and delivery of educational courses, training programs, or learning and development programs. The learning management system concept emerged directly from e-Learning.
Benefits of Document Management System
All incoming and outgoing documents are filed centrally.
Single Document Management solution for E-documents like E-mail,   Excel, Word, Audio, Video, Scanned Document and other documents.
Better flow of information.
Automatic indexing of documents.
Easy handling
All authorized employees can view the information directly from

 their workstations on a click of a button.

Paper-based storage, electronic document management reduces the amount of storage space, time and costs significantly, and speeds up  retrieval time.
Ability for other internal departments and offices to look up  information themselves over the internet, eliminating daylong wait  times and helping the entire company respond faster and run  smoother.
Incoming orders, invoices and legal documents are made available  instantly and by mouse click

The scanned order forms can be accessed instantly with the press of a button

Less filing, increased job satisfaction and lowered stress levels —  this means less turnover and overall reduction of personnel costs  for recruiting and training

Reduced paper handling (from capturing, retrieving to storing) allow  employees to focus on core job responsibilities

Cost effective software solution to help them automate their  workflow process

Business has grown without adding staff and that is the ultimate  objective of every organization.